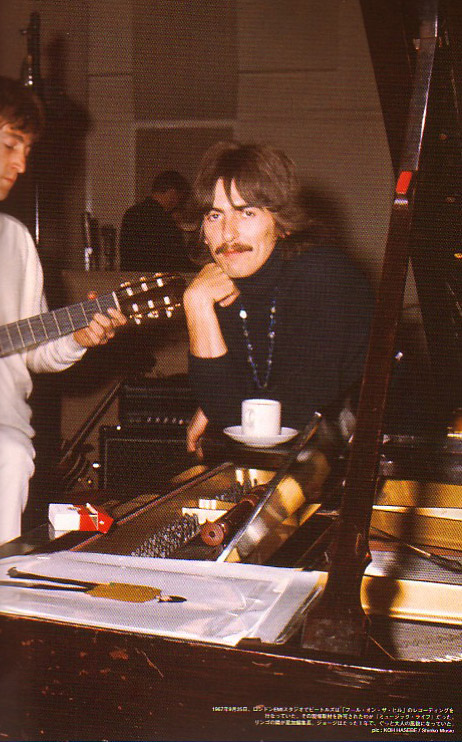 Intriguing photo here from September 1967.  Some journalists and a photographer from Japan had been invited to Abbey Road;  some rough audio was taped, and some photos were taken. Tucked away in the background is an amp, with a casino leaning against it;
It doesn't seem to have been noticed before, but we can now confirm from this & other photos that is a Vox 430, with a 6-string casino.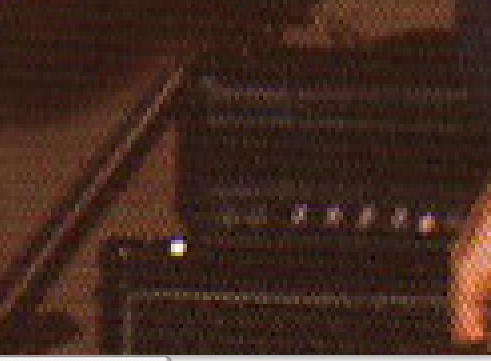 In another photo, there's a conqueror/cab off to the left.  This conqueror/cab/trolley and 4/730 head sitting on trolley-less cabinet combination was seen earlier, in rehearsals for the All You Need is Love broadcast; was that a 430 that was being used in rehearsals/recordings before the broadcast?.  The 4/730 head was taken off the cab in rehearsals as foliage & backdrop items were added and people began to come in. A conqueror head was then visible placed on the cab; in the increasing confusion it's impossible to tell where the 4/730 head was moved to.  The 430 and conquerors, all on trolleys, were clearly seen in the Hello Goodbye video,  and the 430 was probably in the Strawberry Fields promo.  The 430 head was also seen sitting propped on a chair during the Lucy in the Sky with Diamonds recording sessions;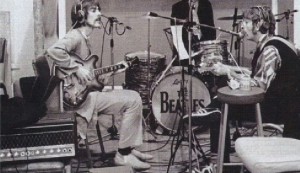 Here in the Fool sessions though, the casino leans against it, and a bright reflection slightly lower down to the right of the controls might be flare off a metal end of a guitar lead going into the 'normal' channel.  It's not definitive of course, but it would seem to suggest Paul or George/John weren't averse to running the 6-string guitars through the 430.
More pics/info on an excellent Spanish site/page here, about 3/4 of the way down;
http://www.elforo.de/liverpool/viewtopic.php?t=2130
It says, "…The Beatles spent the evening of September 25th inside EMI's Studio Two, in London. This was a 7pm to 3am session which resulted in the first proper recordings of The Fool On The Hill (Paul had recorded a demo back on September 6th). Three takes of the basic rhythm track were taped. Harmonicas were played by John and George, and overdubs of a recorder were played by Paul…Early on during the session, the Beatles were visited by two members of the Japanese media, Koh Hasebe and Rumiko Hoshika. While the Beatles began rehearsing The Fool On The Hill , Koh took photographs and Rumiko recorded brief interviews with each member of the group. The complete tape runs approximately 12 minutes in length (when played at close to the correct speed), but unfortunately only survives in inferior sound quality."
The page has links to the audio too, here' s one extract of it –