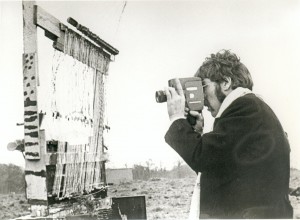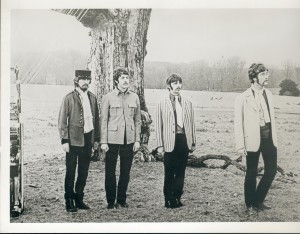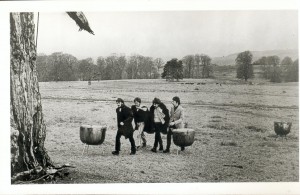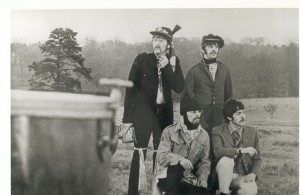 Between January and February in 1967, The Beatles had been grabbing the guitars and 730/430 amps, Ringo's drums and some other gear, and setting off on their own little magical mystery tour.  Their destination was Knole House,  in Sevenoaks, Kent, to film promo videos for Strawberry Fields and Penny Lane.  The 'House' itself was built for the Archbishop of Canterbury as a retreat for hunting, replacing the old one with the 'new' one in 1456.  The 'House'  looks more like Batman's stately Wayne Manor, but it is surrounded by a large park with wild deer, descended from the herds that Henry VIII hunted. (Thanks to Ian Drummond for finding these  pics).
Filming started at the end of January, with footage used mostly in the Strawberry fields promo; on February 5th they returned again, with footage ending up in the 'Penny Lane' video.  The producer was Tony Bramwell, a childhood friend of John, Paul and George, who became Brian Epstein's right-hand man, and later joint head of Apple Records.
He told us, "Yes, I produced Strawberry and Penny, as I did all the little Beatles films.  The piano was bought in a junk shop for £5.00 and smashed up…. just basic (equipment) …film, foldback speaker …the timpani just hired for the day, as were the horses!".
The director for the filming was Peter Goldmann.  He had been recommended by Klaus Voormann;  It was shot on 35mm colour film, around the park grounds, ruins and follies.
Goldmann was a fascinating character in his own right; he later told Swedish magazine Vecko-Revyn, "Everything went so fast. It wasn't until I sat on the plane for London I realized what I was up to. I felt the nervousness and the excitement crawling under my skin. How in the world could I make something funny, bizarre, clever, crazy, sophisticated enough to satisfy the Beatles. It was there in the plane that I came up with the idea of the horses…
In John's special built Rolls Royce they had a real big laugh. Through a microphone and a loudspeaker they tried to shore me up with comments and advice that echoed out over the neighbourhood….
The wind blew on the strings and they kept falling all the time and made a mess".
http://beatlevid.blogspot.co.uk/2014/04/strawberry-fields-forever-penny-lane.html
Details as always are sketchy;  it seems the Beatles stayed at a Hotel in Sevenoaks.  A relative saw them filming; she said they heard they had a party one night in some house in the park.  I think this might have been in what some people call the Bird or Owl house,  near the arch/ruins where the Beatles were filming  (photo from site www.fabulousfollies.net )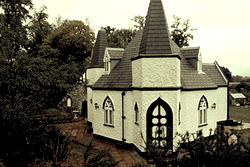 Dave Roberts, a pupil at the time at Sevenoaks School, recalls in his book, "….word spread around the school like german measles.  The bell for lunch had signalled a mass exodus to the park, and soon the Beatles had been joined by hundreds of boys in straw hats. Ringo and John in particular were quite friendly, coming over and chatting to us between takes. When asked to sing something,  John burst into 'Hey hey we're the Monkees'.  It was one of my best times at Sevenoaks". (extract from Dave Roberts, 'The Bromley Boys', Portico books 2008)
In the finished footage, the 730/430 amps can be seen in the Penny Lane video (thanks to Steed Taranto for pics);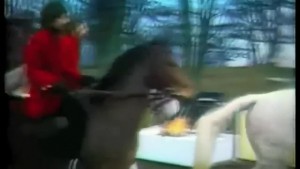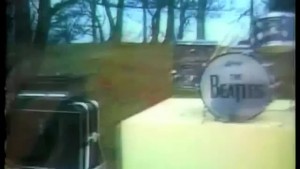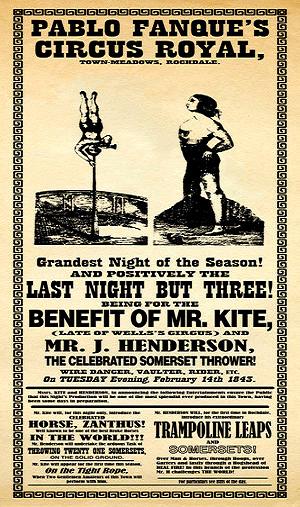 In a break during the filming,  John wandered around an antique shop in the nearby town of Westerham.  Here he came across an old poster, announcing Pablo Fanque's Circus Royal;  "'.. 'Mr. Kite' was a straight lift. I had all the words staring me in the face one day when I was looking for a song. It was from this old poster I'd bought at an antique shop. We'd been down to Surrey or somewhere filming a piece.
There was a break, and I went into this shop and bought an old poster advertising a variety show which starred Mr. Kite. It said the Henderson's would also be there, late of Pablo Fanques Fair. There would be hoops and horses and someone going through a hogs head of real fire. Then there was Henry the Horse. The band would start at ten to six. All at Bishopsgate. Look, there's the bill– with Mr. Kite topping it. I hardly made up a word, just connecting the lists together. Word for word, really."  John Lennon.
HD clip from Strawberry Fields on youtube here –
Ian Drummond's transcription of the playbill;
PABLO FANQUE'S CIRCUS ROYAL
TOWN – MEADOWS, ROCHDALE
Grandest Night of the Season!
BEING FOR THE
BENEFIT OF MR. KITE
(LATE OF WELL'S CIRCUS) AND
MR. J HENDERSON,
THE CELEBRATED SOMERSET THROWER!
WIRE DANCER, VAULTER, RIDER, &c.
On TUESDAY Evening, February 14, 1848
______________________________________________________________
Messrs. KITE & HENDERSON, in announcing the following Entertainments,
assure the Public that this Night's Production will be one of the most Splendid ever produced in this Town, having been some days in preparation.
MR. KITE will, for this night only, introduce the
CELEBRATED
HORSE, ZANTHUS!
Well known to be one of the best Broke Horses
IN THE WORLD!!!
Mr. HENDERSON will undertake the arduous TASK of
THROWING TWENTY ONE SOMERSETS,
ON THE SOLID GROUND.
Mr. KITE will appear, for the first time this season,
On the Tight Rope, When Two Gentlemen Amateurs of this Town will
Perform with him.
Mr. HENDERSON will, for the first time in Rochdale
Introduce his extraordinary
TRAMPOLINE LEAPS
AND
SOMERSETS!
Over Men & Horses, through Hoops, over Garters, and lastly, through a Hogshead of REAL FIRE! In this branch of the profession
Mr. H challenges THE WORLD
For particulars see Bills of the day