Prototypes – The Beatles
It seems that the earliest working prototypes seen were the ones actually issued to the Beatles,  the first of which arrived sometime around the start of the recording sessions for Revolver, around April 1966.  These UL-7120, 120-watt heads were smaller than production 7/4series 120-watters,  looking very much like size of the smaller 730 size heads.  They were  actually just a fraction smaller than the 730 though , slightly less wide/tall/deep, being  22.5″ by 8.25″ x 11.25″  (the 730 being 23″ x 9″ x 11.5″).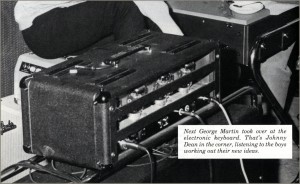 There were other differences too; from the rear,  photos show that the valves were mounted on slightly angled bases, and the rear section could be removed for access to these valves.  This only featured on the early prototypes; it was probably hoped that this would help to ventilate some of the heat from the cramped space of the smaller cabinets.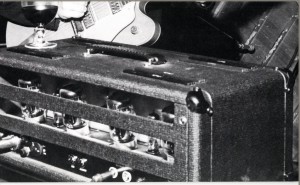 The Beatles amps lacked the ventilation space of the "large box"  production sized cabinets; in fact it's hard to see how they even fitted the transformers in, if they were the regular upright configuration (see HERE for comparison with 730 size chassis).   Maybe this is why the Beatles amps uniquely had doubled up rows of vents on the top; in the colour pic, you can see VOX's attention to styling/detail in the way the inner vents were a slightly lighter shade of grey.   Some of the transformers for the new line were made by Douglas Chapman.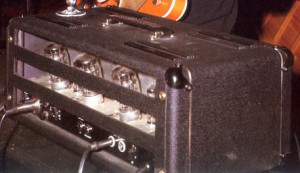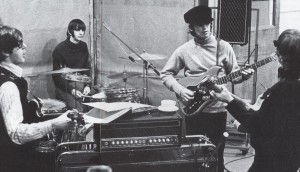 The front panels were diferent too, with different placing/styling/accenting of control legends, a smaller VOX logo, and less evenly placed diamond motif.
Paul's amp had a "BASS" legend upper right front; John and George's had none.