Triumph Electronics – 118 and 122 Brighton Road, Purley – was, from the early 1960s, the company that did much of the designing and a certain amount of the production of various models of amps for Vox. Geoff Johnson was its founder and manager.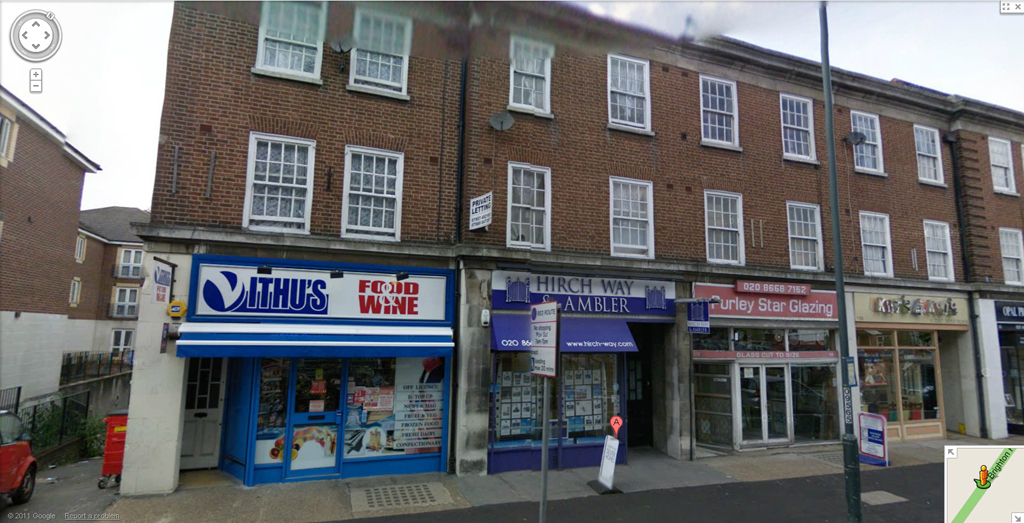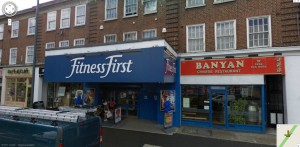 On the left, 122 and 118 Brighton Road as they are today. The sliproad at left leads to a storage area. On the right, "Fitness First" – what used to be the entrance to the Orchid Ballroom, famous for jazz dance evenings, and later owned by Larry Page, manager of the Troggs. Now and again, amps were tried out in the ballroom.
Quite how Dick Denney found Triumph and Geoff Johnson is unrecorded, but it may be that names were known through mutual acquaintances and trade fairs. Johnson must have a fairly high profile in the late 50s. Trained in the Admiralty Signal and Radar Division during the war, he joined the Department of Electro-physiology (neurosurgery) at Hurstwood Hospital in 1948, remaining there until 1954, whereupon he joined Faraday Electronic Instruments in London. At some point around 1959, however, he left and set up Triumph in Purley, at first manufacturing and importing electronic instruments (medical and domestic). Johnson's credentials were therefore impeccable.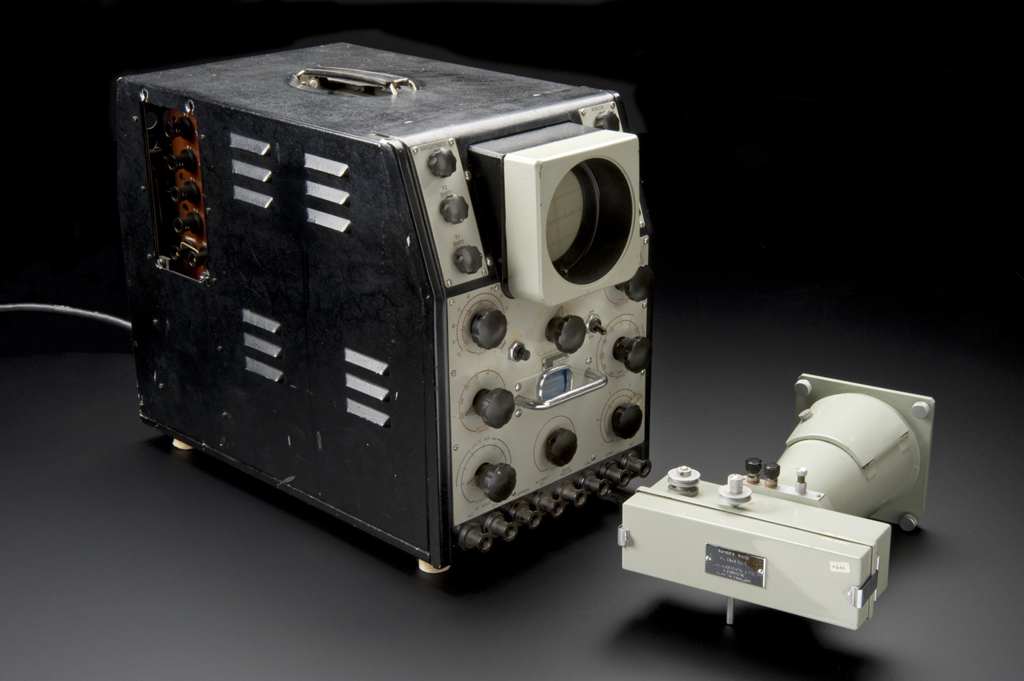 Above, an Oscillograph, developed and used at Hurstwood Hospital.
TRIUMPH, it should be said, also built AC50s, AC100s and reverb units for Vox.  By the time the 7-series came into being, though, production of AC50s had passed to Erith; and only a very few AC100s were asked for by Vox from Triumph in 66. But Triumph still produced Vox PA amps, and amps also for other makers. Work in other fields – devices for hospitals – continued too; and  Les Avery, Triumph's chief electronic designer, built himself a colour television from scratch (see below).
A small team worked in conjunction with Denney and others at Vox on the 7-series: Simon and Graham are remembered by Carl Nielsen.
Dave Roffey, who worked at Triumph in the late 1960s, designing among other things the Vamp range of amps, recounts:
"As far as I remember, units he had started from the end of the building structure next to the ramp down to an underground car park. I used to take amps down there to blast out. Also in the Orchid when it was convenient. Two shops side by side from the end when I was there. The first, or end shop, ground floor was Geoff Johnson's office, a room I used for designing amps and a third room with a drawing board etc in for layouts, pcb and chassis drawings, reference books etc. Stairs down to the basement led into the production and test area. Benches for about 8, bending press and guillotine. This might have been spread into next doors basement, but it wasn't a very large area."
"Out the back was a common path way behind the buildings. Triumph rented space underneath the Orchid for stock etc access via this walkway. The shop area next door (no. 118) was mainly a stock room for components. A Mrs Andrews, a French lady, was fiercely in charge I remember. Les Avery, the designer of the transistor gear had an office in there, and there also was ECG machine equipment somehow involved with it all. Les designed a colour television, had strong links with RCA and semiconductors, finally going over to them, which is where I came in. I put the first distortion "bite" controls in valve pre amps, which was a hell of struggle considering it was a big no no for the "clean are us" brigade. And a proper middle control! There were some chassis made at Triumph, but quantities came from South Croydon, as did circuit boards when they started to be used. I did a design for the AC30 pcb at one stage I remember."
"I'm trying to think back again to how I started at Triumph. I was at Negretti and Sambra in Croydon doing aircraft electronics, but always wanted to get into the guitar electronics, since I was in bands and already making amps and effects for myself. I know I went to meet Dick Denny, and it was he who gave me the Triumph contact. He was just playing with effects, not to any really impressive levels, and I remember being a little disappointed at the time. I was never sure about the Jennings connection. It had certainly faded by the end of my time. Quite how the connection started is anybody's guess but I would have thought that Vox guys were concept guys (obviously good at marketing), and maybe started by finding an electronics firm that could do their production and development and then went into their own production as it expanded. They certainly wouldn't want anybody who would jump on their bandwagon and definitely teamed up with a company that was skilled enough to match the professional levels of electronic production."
"Geoff was a pretty shrewd guy who seemed to have all sorts of strange connections. Quite how long they were in the medical equipment world for, before getting into different markets is a mystery to me. It could be that they were chosen for the very reason that they were not in the same market, and therefore would appear not to present a threat. (Plenty of paranoia around in those days) So, all in all, I think you are right in that they were chosen because they were able to match the professionalism that was required, along with appearing to have no reason to wanting to get into the same market."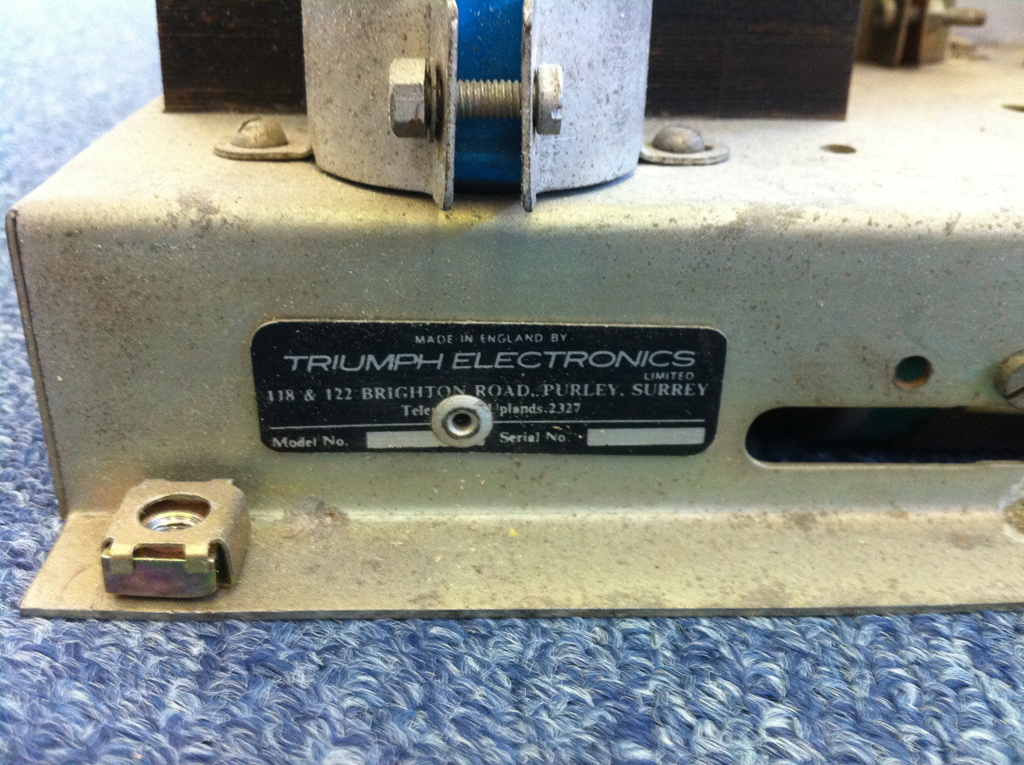 Triumph later produced amps for Jennings Electronic Industries (founded by Tom Jennings after JMI/Vox had folded), Vamp, and Sound City. Numbers of these amps were marketed under different brand names – Leo, Johnson, and of course under Triumph's own name – see this Plexi Palace thread and the wonderful Vamp site.