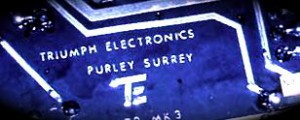 Ron Babbage started at Triumph in the wiring shop, but moved on to helping manage various projects.   He recalls that Triumph had the two buildings, either side of a music shop. "The metal fabrication part was on the medical side (to the left of the central shop). The Wiring Shop was under the building on the right. Walking around the back of the shop, there was a little garden area..metal stairs led to an alley, with a ramp up to the back of the Orchid, and a car parking area.
My first day was spent scraping and cleaning capacitors..with cuts and blisters on my fingers I thought 'I'm never going back there again', but persevered. I remember Dave Roffey, I think he might have been developing a reverb pedal/box. Bands would sometimes ask to test out equipment, usually at the weekends; you'd ask Geoff for permission and overtime and he'd say yes, go on, but I don't remember getting paid in the end. I did get some extra work drilling holes for circuit boards..Rooke (Brooklands) heard, and asked if I could do the same for him. I managed in the end to save enough to buy a Morris Minor. One day Andy Fairweather-Low wanted to test out some amps at the Orchid, so 3 of us set it up and listened to him. He'd parked his Jensen Interceptor in my space though, and when I automatically reversed out as usual I hit an r.s.j. that was supporting a canopy, which fell and dented my car…! Geoff would give bands equipment,and then when the bands broke up he'd offer them a job – I seem to remember a couple of guys from Geno Washington's band joined us, Alan Griffin was the guitarist and there was the drummer too."
Andy Fairweather-Low was recalled by Dave Roffey too; ".. I remember going to see Andy Fairweather-Low when the band were staying in Zsa Zsa Gabor's flash log cabin on an exclusive London 'estate', before a tour. Bit of promo for Triumph gear. He had a pretty rare original Dobro slide guitar that I remember being impressed by".