Signed print photos offered at (Gretsch guitar) auction, showing Lennon with guitar & new prototype 7120s;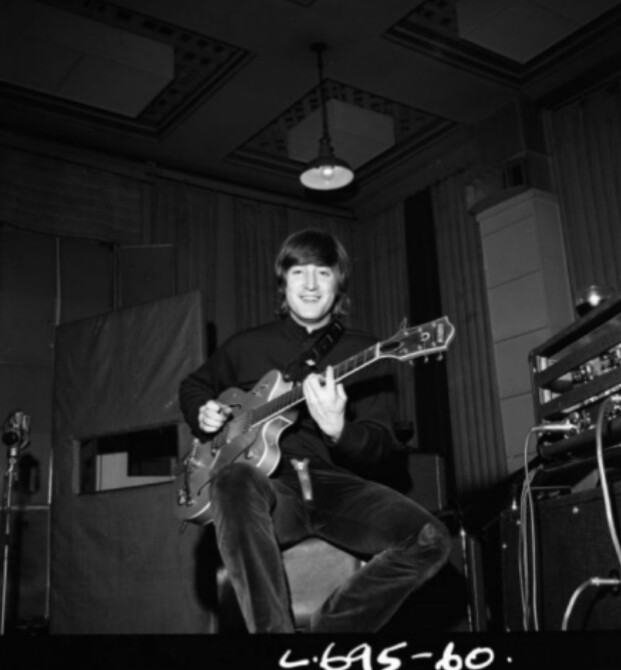 From Reuters, here;
"..(Reuters) – A Gretsch guitar that John Lennon played for the recording of the Beatles' hit song "Paperback Writer" and then gave to his cousin is expected to fetch up to $1 million (630,000 GBP) at auction in Britain this week.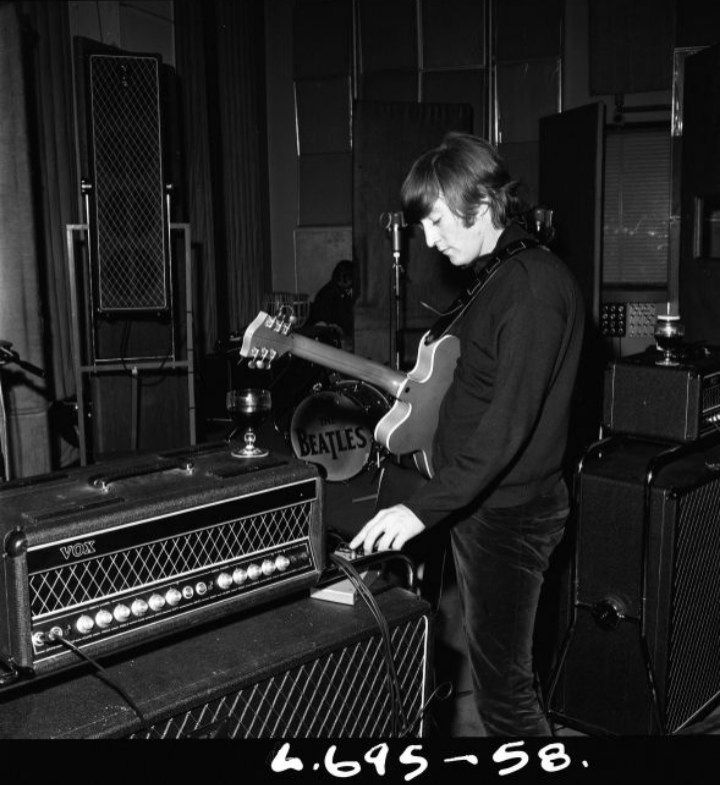 Auction house TracksAuction.com said the Gretsch 6120 instrument was one of the most significant Lennon guitars to come on the market in the last 30 years.
"It's come directly from John Lennon's cousin, who was given it by John Lennon in 1967 and he's had it ever since, so for collectors of Beatles memorabilia to have a provenance like that is exceptional," the auction house said.
Lennon gave the guitar to his cousin David Birch a year after the hit single was produced at London's Abbey Road studio.
Birch, who grew up with Lennon in Liverpool, said he had received the instrument after asking his older cousin if he had a guitar he no longer wanted.
"I was just cheeky enough to ask him for a guitar and he gave me the Gretsch and of course I was very pleased, simple as that, really. Sounds a bit cheeky but it didn't seem cheeky at the time," Birch, 66, told Reuters.
Asked why he had decided to sell the guitar after so long, Birch said: "Well, I'm not getting any younger, I've had it 47 years. And it was just in the bedroom, you know, and I used to pick it up every now and then and play around with it."
After leaving the Gretsch factory in New York, the guitar has had only two documented owners – Lennon and Birch.
This week's auction of rock and pop memorabilia also includes a copy of the LP "Sergeant Pepper's Lonely Hearts Club Band" signed by all four Beatles in red ballpoint pen. It is expected to sell for up to 150,000 pounds ($240,000).
Also for sale are three school detention sheets relating to Lennon retrieved from a clear-out of a room at Liverpool's Quarry Bank High School in the 1970s.
Lennon attended the school between 1952 and 1957 and one of the sheets shows he received a detention for "singing at the top of (his) voice in the corridor". They are each expected to sell for up to 6,000 GBP each.
The auction opens for online bidding on Friday."
Original auction here
Sale announced here
description from auction catalogue;
"
Paperback Writer Recording Session EMI Studio 3 April 13 & 14 1966
After a lay-off of approximately 4 months, the longest break ever in The Beatles working schedule and one in which John, Paul, George and Ringo were stretching themselves socially, culturally and musically, the group met at EMI Studios on the 6th April to begin recordings for what would become theRevolver album. They kicked off the sessions with the recording of Tomorrow Never Knows, one of the most revolutionary-sounding pieces of music ever created. This was followed by the taping of the Tamla-influenced Got To Get You Into My Life and the eastern-inspired Love You Too.
Paperback Writer was, then, the fourth track to be recorded at the Revolver sessions. The broad idea for the song had been fermenting for sometime in Paul McCartney's mind. The subject matter, obviously influenced by the paperback publishing boom of the mid-sixties, was an unusual topic for a Beatles song. It had in some way been originally influenced by a conversation, reported in the music press in the sixties, which Paul had had with his Aunt Lil: "Years ago, my Auntie Lil said to me 'Why do you write songs about love all the time? Can't you ever write about a horse or the summit conference or something interesting?' So I thought 'All right, Auntie Lil'. And recently, we've not been writing our songs about love". Paul conceived the specific idea for the song as he was driving out to John's home, Kenwood, for a songwriting session in 1966. He told his biographer, Barry  Miles: "You knew, the minute you got there, cup of tea and you'd sit and write, so it was always good if you had a theme. I'd had a thought for a song and somehow it was to do with the Daily Mail so there might have been an article in the Mail that morning about people writing paperbacks. Penguinpaperbacks was what I really thought of, the archetypal paperback. I arrived at Weybridge and told John I had this idea of trying to write off to a publishers to become a paperback writer, and I said, 'I think it should be written like a letter.' I took a bit of paper out and I said it should be something like 'Dear Sir or Madam as the case may be …' and I proceeded to write it just like a letter in front of him, occasionally rhyming it. And John, as I recall, just sat there and said 'Oh, that's it,' 'Uhuh,' 'Yeah'. I remember him, his amused smile, saying, 'Yes, that's it, that'll do.' Quite a nice moment: 'Hmm, I've done right! I've done well!' And then we went upstairs and put the melody to it. John and I sat down and finished it all up, but it was tilted towards me, the original idea was mine. I had no music, but it's just a little bluesy song, not a lot of melody. Then I had the idea to do the harmonies and we arranged that in the studio."

On the 13th April 1966 Paul McCartney arrived at EMI's Studio 3 with the words to Paperback Writer written out in epistolary style on the back of a photo. Paul had signed off the manuscript with a fictitious name, "Dear Sir or Madam …. Ian Iachimoe". Geoff Emerick who had just succeeded Norman Smith as chief engineer to The Beatles recalls Paul running through the song on piano to the other Beatles that day: "Paul pounded out a catchy melody, instantly hummable, filled with memorable hooks. I couldn't make out the lyric entirely, but it seemed to involve book writing. Each time he would come to the chorus, Paul would stop playing and gesture to John and George Harrison, pointing out the high harmony he planned on assigning each." According to Mark Lewisohn's Beatles Chronicle, the day's session began at 2:30pm when the group put the finishing touches to George'sLove You Too, the mixing of this track was completed at 6:30pm. The Beatles subsequently started to work onPaperback Writer and at 8pm recording began. They made two takes of the rhythm track, only one of these was complete and marked 'Best'.It is this second take of the rhythm track that forms the heart of the finished recording, John's chording driving the song along relentlessly from beginning to end. As George Martin observed: "Paperback Writer had a heavier sound than some earlier work – and very good vocal work, too. I think that was just the way it worked out, that the rhythm was the most important part of their make-up by this time".
The Beatles re-convened at Studio 3 at 2:30pm on 14th April to pick up where they had left off with the recording of the song. Shortly after the session had began Beatles Monthly editor, Sean O'Mahony (aka Johnny Dean), arrived with his photographer, Leslie Bryce. Sean described the scene that he encountered: "On entering the studio, we found John and Paul surrounded by a mass of equipment – most significant of all, were their new massive amplifiers. Paul was clad in his distinctive casual recording gear of black trousers, black moccasin-type shoes, white shirt with fawn stripes, a black sleeveless pullover and to top it all – orange-tinted specs. John sported green velvet trousers, a blue buttoned up wool vest and black suede boots………..the studio was littered with pianos, grand pianos, amplifiers, guitars, percussion instruments, and other odd bits and pieces which were strewn over the studio floor. The studio was sectioned-off with brown canvas screens and what seemed like thousands of black cables running from the amps and other electrical equipment to the control room over the heavily marked wooden floor. To stop the echo, EMI have covered some of the floor with old carpets". Paul remarked to Sean: "The trouble is…that we've done everything we can with four people, so it's always a problem to ring the changes and make it sound different. That's why we have got all these guitars and equipment here". Paul's comments reflect the fact that the group were intent on bringing radical changes to their music. Experimentation with sound and new recording techniques were a strong feature both of this particular session and of the Revolver sessions in general. A whole range of new techniques and technological advancements – tape loops, Artificial Double Tracking, limiters, compressors, vari-speed vocals, jangle boxes, vocals put through Leslie speakers, speeded up and backwards tapes etc.  – was developed during the April 1966 EMI sessions, it helped take the music of The Beatles into another dimension.  Geoff Emerick was a catalyst in this whole process. He had quickly introduced a number of important innovations, close-miking and bass drum-damping amongst them, which qualitatively changed the Beatles sound.  During the Paperback Writer session he developed the novel idea of using a loudspeaker as a microphone to boost the sound of Paul's bass, routing the signal through a complex set up of compressors and filters. A further indication of the group's changing outlook was the fact that The Beatles had brought to the session different makes of the instruments they normally used. Leslie Bryce's photos from 14th April 1966 show, in addition to John picking out chords on the Gretsch 6120, George playing a Burns Nu-Sonic bass and Paul using a Rickenbacker 4001 bass rather than his Hofner. Also, as Sean O'Mahony noted in his Beatles Monthly article, brand new Vox and Fender amplifiers were used. During the session numerous overdubs were added to the rhythm track recorded the previous night, these included Paul's lead vocal and John and George's Frère Jacquesbacking vocal. The recording was finished at 7:30pm and it was then mixed into mono between 7:30 and 8:00pm.
Paperback Writer was coupled with Rain as it's b-side and issued on 10th June 1966, it went to the No. 1 spot on the Melody Maker chart during the first week of release."