FURTHER SIGHTINGS
BEE GEES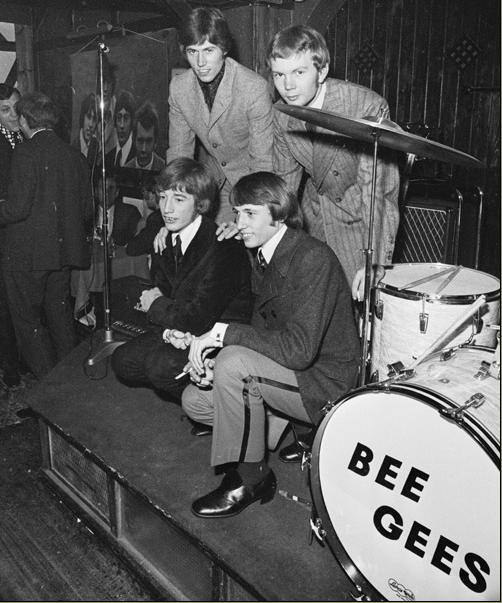 Above, a promotional shot taken in Knightsbridge in 1967 to record the band's signing with Robert Stigwood. On the far left on the stage floor, what looks like a Marshall head. Behind the band, either a 7120 or 760 on a trolley – the end handle on the amp is just visible.
THE TROGGS
Orchid Ballroom, Purley – seen by Carl Nielsen, who worked at the time for Triumph Electronics just along the road. The band had 7120s on top of stacked cabs – much as Pink Floyd and others at the Rome Festival in 1968, on which see this entry (with further links on that page). Carl was later involved in the plan to build 7200s or 7240s (ie. 200 or 240watt monsters) for the Beatles, a process that never came to completion.
Presumably the amps used by The Troggs were provided for the occasion – 3rd August – by Vox/Triumph. No pictures have so far surfaced of the band using 7 series amps elsewhere.
Interesting to note that The Troggs were managed by Larry Page, who was also closely associated with another band that used 7120s – Los Brincos (as producer in 1968). For more – see this blog post.