Soon it will be 50 years since Alf Bicknell was jotting notes in his diary, about picking up the new Beatles 7series amps.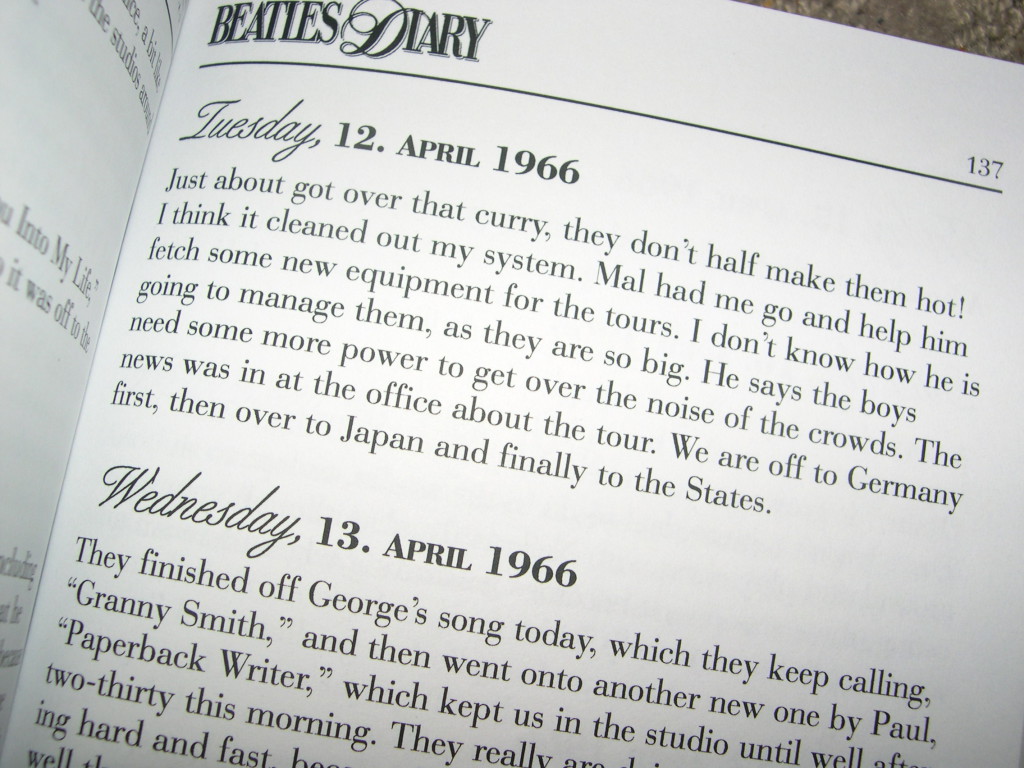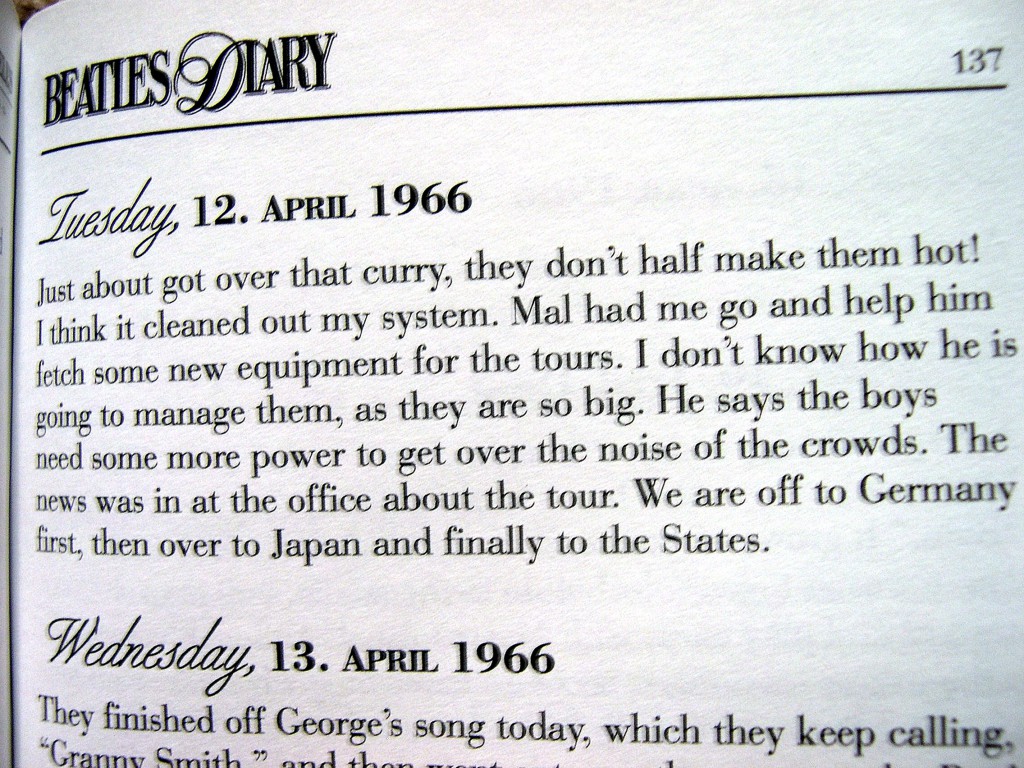 Alf Bicknell was the Beatles chauffeur from 1964-66.  When Alf later started to tour telling stories & memories of his time with the Beatles, George Harrison provided this as part of a testimonial for him;
"…Alf Bicknell lived moment to moment with the Beatles through those years … Anyone who was beaten up by Imelda Marcos's bully squad is a friend of mine." (This was a reference to the rough handling the band received while on tour in the Philippines).   The wikipedia listing describes how,  "..Dressed in a blue suit, crisp white shirt and tie, he first drove the group in an Austin Princess (registration SST 626) – at that time, he later said, it was one of only two cars in London to have blacked-out windows (the other belonged to Peter Sellers).  Later Bicknell drove the band in John Lennon's Royce-Royce Phantom V, which was kitted out with a television set. On occasions when any of the Beatles wished to be more discreet, the chauffeur would use a less conspicuous vehicle." (full version HERE)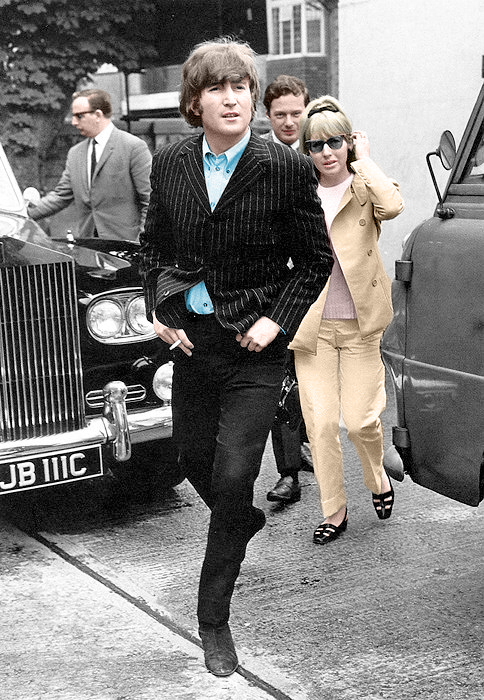 Maybe Alf & Mal used the large  Rolls  (which Lennon got in '65) to pick up the amps.  (One of the Indian musicians on the earlier "Granny Smith" (Love You To) session,  Anil Bhagwat, later recalled that he too had been picked up by Alf in the Rolls-Royce).    According to wikipedia,
"With take 6 selected as the best performance, a reduction mix was carried out on 13 April, freeing up space for moreoverdubs on the four-track tape.  Harrison added another vocal part onto what was now referred to as take 7, and Ringo Starr played tambourine. McCartney contributed a high harmony vocal over the words "They'll fill you in with all their sins, you'll see", but this part was omitted from the final mix.[57][nb 4] Harrison also overdubbed fuzz-tone electric guitar,[60] controlling the output via a volume pedal.[58] Producer Tony Visconti has marvelled at the guitar sounds the Beatles introduced on Revolver, particularly Harrison's part on "Love You To", which he says "sounds like a chainsaw cutting down a tree in Vermont".[61]
Harrison had experimented earlier on "Tomorrow Never knows" with backwards guitar tones;   "..— one ordinary, one a fuzz guitar — which were superimposed on top of one another. Geoff Emerick recalls that this was all George Harrison's idea and that he did the playing."
—Mark Lewisohn, The Beatles Recording Sessions, p.78, 1988
It would seem then that the amps were picked up on the 12th, and probably first used on the sessions on the 13th, which started with overdubs for 'Love You To' and continued with the first takes of 'Paperback Writer'.
Alf is described as having been very approachable, friendly and modest…. this is certainly how Steve Zazulyk, who met him once Liverpool, remembers him;
"I believe it was 1997 or 98 my wife Kelly and I won a trip to travel from our home in Canada to Liverpool and attend the re-release of "The Yellow Submarine". We arrived at the hotel and missed the bus, and so did a very friendly looking soul in the lobby, sitting at one of the long tables. I made a comment about missing the bus and he invited me for a seat. It was then that I met Alf and for the rest of the night he told me every Beatle story I could have ever dreamed to hear. All the questions I had about what happened the night of Shea Stadium and what was it like to have been in the same room as Elvis and the Beatles at the same time (They only met once at Graceland, Alf, Brian E. and Col.Tom Parker were the only one's present).We stayed in England for 8 days (of course) and saw Alf every day (I think he thought my wife was cute!) what a great and gentle man. He used to laugh and get excited then he would do his signature pose…grasp the wheel of the Rolls Royce Phantom V and pretend to drive!  That was Alf he was great…. To Alf's family.. he really was a part of history and a unique and great man."  Steve also recalls, "..I specifically remember Alf talking about lugging these big ass speakers around".  This could be a memory of shifting the ac100s; but with the increasing power & size of the new 7120 amps,  even the giant Mal needed more assistance.  In the violence as they tried to leave Manila airport, the authorities even switched off the escalators….lugging 7120s and cabs up stairs while being punched and kicked by the military may well have been what he had in mind.
More on earlier posts; the arrival  HERE ,and on moving the amps around- HERE